Your support is needed and is appreciated as Amigaworld.net is primarily dependent upon the support of its users.




Topic
Replies
Looks like Amistore is getting close to release (1, 2)
26
Trevor's Amiga Blog (1, 2, 3, ... , 31)
608
A1-X1000: A-EON Live Remix DVD
12
Audio converting software for OS4 (or 68k)
17
What's up with Sam460CR? (1, 2, 3)
51
ACA 1233 with FPU?
5
AmiWest 2014 Photo and Video Thread
10
Unable to setup Internet network connection (1, 2)
28
µAlchimie III  - October 25-26, 2014
12
AmiWest 2014 Q&A (1, 2, 3, ... , 5)
94
»» Recent Topics »» Visit Forums



MUI 4.0-2014R5 for AmigaOS4/PPC and MUI 3.9-2014R3 for AmigaOS3/m68k released
Software News posted by tboeckel on 31-Oct-2014 8:25:36 (0 reads)
New releases of MUI 4.0 for AmigaOS4/PPC and MUI 3.9 AmigaOS3/m68k have been made available for download on the MUI for AmigaOS development site.

The MUI 3.9 release for AmigaOS3/m68k is no longer a beta release, because no severe bugs have been reported since the 2014R2 release.
Post comment
A-EON Technology Amiwest 2014 News Releases
Software News posted by amigakit on 29-Oct-2014 1:11:32 (1025 reads)
New RadeonHD 2.4 From A-EON Technology
Software News posted by amigakit on 27-Oct-2014 21:59:20 (2788 reads)
New RadeonHD 2.4 drivers
Digital Composite Video Support

A-EON Technology Ltd is pleased to announce the forthcoming release of new and updated RadeonHD drivers for AmigaOS 4.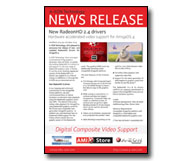 A-EON Technology have once again commissioned Amiga graphics developer, Hans de Ruiter, to update the existing RadeonHD V1.0 drivers to add support for the new range of RadeonHD graphics cards in the R5, R7 and R9 series. Existing registered owners of the RadeonHD v1.0 drivers can update to v1.2 free of charge on AMIStore or through the A-EON secure download server.

47 comments | Read more (1 , 2 , 3)
Finnish Amiga Users Group's Amiga 4000 donation to Igor Majstorovic
Announcement posted by jPV on 27-Oct-2014 14:35:45 (311 reads)
Finnish Amiga Users Group recently received offers for two separate Amiga 4000 computer donations, for giving onwards to worthy Amiga causes. We are very grateful for these generous offers and have coordinated them to the best of our abilities. The machines and donations themselves have been handled by private people.

We are now happy to announce that the first one of the Amiga 4000 donations is on its way to the recipient, Igor "Majsta" Majstorovic in Bosnia. Igor has worked tirelessly and selflessly on Field-Programmable Gate Array (FPGA) accelerator cards to bring a modern solution to speeding up our old Amigas, and we hope this donation we facilitated helps him in that work. The donation also includes Amiga 4000 accelerator board connectors, plentiful accessories and some Amiga mementos as well.

Click READ MORE for details ===>
1 comment | Read more
The digibooster3.library is the official DigiBooster 3 replayer in a form of Amiga shared library. It is available for AmigaOS 3, AmigaOS 4 and MorphOS. The library comes with developer documentation, examples and source code, licensed on BSD licence. Using the library is recommended over the static libdigibooster3, as it produces smaller executables, also users can have the latest version of the replayer without recompilation of applications.

http://www.digibooster.de

Post comment
Dear ladies and gents,

we just ported our latest game VoxelNoid to AROS (x86, 3D acceleration).
Extra thanks to BSzili for providing a working fresh cross-compiler!
And yes, it's x86 only, no other AROS versions planned, especially no 68k version

And yes, that version is for free too.
And yes, please consider donating if you like it


Click READ MORE for details ===>

Read more
AmigaOS 4.1 Final Edition available before the end of 2014
Announcement posted by Mason on 26-Oct-2014 19:31:57 (3083 reads)
Brussels, October 27, 2014

Hyperion Entertainment is pleased to announce the imminent availability of "AmigaOS 4.1 Final Edition" for all supported platforms.

AmigaOS 4.1 was released in September of 2008 and has seen no less than 6 free major updates and at least 81 smaller updates released through AmiUpdate.


39 comments | Read more (1 , 2)
Boing Attitude needs translators
News posted by Glames on 25-Oct-2014 9:01:21 (133 reads)
Regarding our quiz game Ask Me Up XXL, we're looking for people that can translate questions/answers/comments from English to :

- German, Polish, Portuguese (Portugal), Spanish (Spain) & Swedish.

Of course, we prefer native speakers that are good in grammar and spelling


If you translate :
- 200 questions (including associated answers and comments), you win an Ask Me Up XXL free copy.
- 400 questions (including associated answers and comments), you win a Word Me Up XXL mousepad.
- 600 questions (including associated answers and comments), you win a Word Me Up XXL or Dir Me Up free copy.

Please contact us
More details on Ask Me Up
Post comment
SQLMan - sqlite database manager released
Software News posted by Lazi on 24-Oct-2014 7:22:27 (444 reads)
Alpha Aminet release for AmigaOS3, OS4, MorphOS, Aros.

SQLMan download

This application based on the SQLite database engine and lets you create, view and modify databases. The database handling can happen via the GUI or there is an SQL command shell to serve any needs. There is a preliminary support for open xml spreadsheet files which can be converted to databases and even to native Amiga spreadsheets.

This is a must for the Hollywood SQLite users. Created with Hollywood. (www.hollywood-mal.com)

Features:
- view database structure and content
- console for sql commands
- create new table structure
- memory database for testing purpose
- xlsx spreadsheet import
- for every platform that supports mui or zune SQLMan download

Click READ MORE for screenshot ===>

7 comments | Read more
Amiga Future 111 preview and excerpts are now available online
News posted by AndreasM on 23-Oct-2014 8:01:21 (191 reads)
The full colour preview and excerpts of the Amiga Future issue 111 November/December 2014) is now available online.

Some of the interesting articles in this issue are:

Preview AmigaOS 4.1 Final Edition & AmigaOS 4.1 Poster
Interview Toni Wilen (WinUAE)
Review DigiBooster 3.1

Of course there's so MUCH more actually in the magazine. Click READ MORE to find out what ===>

1 comment | Read more
[ home ][ about us ] [ forums ][ classifieds ] [ links ][ news archive ] [ link to us ][ user account ]
Polls (Login to view/vote)