Your support is needed and is appreciated as Amigaworld.net is primarily dependent upon the support of its users.

AmiKit on bootable Flash Disk. AmiKit 8.2 with updated MUI4 released.
software Classic posted by AmiKit on 28-Jan-2015 20:01:25 (266 reads)
Solid metal design. Limited Edition.


Buy now from http://amikit.amiga.sk

Thanks for using AmiKit. To make it even better for you, we have released a new update which installs automatically thanks to integrated Live Update feature. AmiKit download and update is always FREE.

Read more
Hello,

as promised here are the first results of the indieGO!-Bonus program which honors the top10 developers with a bonus in form of indieGO!/Amicoins (it is the same).

1 comment | Read more
Vote for the best game of 2014
Software News posted by Daff on 27-Jan-2015 7:22:36 (246 reads)
Each year you can vote for the best Amiga game of the previous twelve months. Now it's time for the Amiga Games Award 2014!

To vote for the best AmigaOS 68k, AmigaOS 4, MorphOS, or AROS games, you can rate them at this page : http://obligement.free.fr/hitparade/award2014.php

There will be no "global" winner, but a winner by systems (AmigaOS 68k, AmigaOS 4.x, MorphOS and AROS).

The final results will be published Saturday, February 7, 2015.
2 comments
A-EON Technology Ltd is pleased to announce that it has purchased the source code and development rights for ImageFX and Cinemorph from Woodall Design LLC. As part of the sale agreement A-EON has also acquired exclusive rights to the latest ImageFX 4.5 Studio Edition for AmigaOS and MorphOS. This includeds the updated ImageFX 4.5 Studio manual along with full rights to the ImageFX and Cinemorph trademarks together with a sublicence for the Cinematte trademarks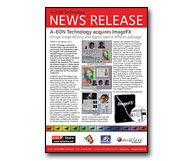 PDF News Release

A-EON Technology Ltd
www.a-eon.com


23 comments (1 , 2)
The Amiga Games List maintained by David 'Daff' Brunet since April 1991 was updated with its 44th edition published on 17th January. Among others, all games from 2014 was added. Thus the total reached 12,235 entries as follows:

Read more ---->

1 comment | Read more
Next FCUG meeting - Sunday, Jan. 18
Events posted by RobertB on 13-Jan-2015 17:28:28 (356 reads)
Happy New Year, C= and Ami aficionados!

The Fresno Commodore User Group has its next meeting from 11 a.m. to 1+ p.m., Sunday, Jan. 18 at --

Bobby Salazar's Mexican Restaurant
2839 North Blackstone Ave. (corner of Blackstone and Michigan)
Fresno, California

Barring any monitor problems like we had last month, we'll retry Misfit's Super Starship Space Attack for the VIC-20. For the Plus/4, we'll have the serious SVS-Calc 2.5 spreadsheet program and the fun Xplode Man game (a Bomberman clone). On the C64 side, we will look at the Cloanto's newest C64 Forever 2014 CD for the PC. On the Amiga side, we'll have an Amiga 1200 with Blizzard '060, 256 megs of Fast RAM, OS 3.9, and 4 gig CompactFlash drive with a variety of programs installed.

FCUG celebrating 33 years!
Robert Bernardo
Fresno Commodore User Group
http://www.dickestel.com/fcug.htm
Post comment
zTools 1.3 available on AMIStore
software OS4 posted by zzd10h on 13-Jan-2015 8:55:29 (937 reads)
zTools 1.3 is now available as a free update on the AMIStore.


This version contains updates for Installer, aTunes_Cover_AAmp, SysMon, NetDock, WebReplay, FastView, FlipPaper, FastCompress and AttachMail for AmigaOS 4.1 FE compatibility


See below for more details...




14 comments | Read more
Happy new year to everyone

I have just uploaded the newest version of Aros Vision


1 comment | Read more
Assist 2.0 is now available to download from OS4Depot. This update sees significant changes to make browsing the A to Z faster, a fresh new look and much more.

Assist is now shareware with registration required to enjoy all the knowledge base's features, please see the 'Register' link in Assist for further details. To celebrate the release of Assist 2.0 the 30th user to register will receive a free 2015 Amiga 30th Anniversary Calendar.

New users can grab the latest version from OS4Depot, while existing users can update to this latest release via AmiUpdate.


3 comments | Read more
[ home ][ about us ] [ forums ][ classifieds ] [ links ][ news archive ] [ link to us ][ user account ]
Polls (Login to view/vote)